Construction Mallorca
REFORMASTER, is a construction and renovation company in Mallorca. In REFORMASTER we are offering our services of Construction, Architecture and Design for over a decade and integrity is the foundation of our business. We can help you build your dream home or transform your existing home. We have been building, restoring and upgrading homes in Mallorca, working collaboratively with all our clients to create their vision without minimum hassle or fuss and listening to our clients is a top priority.We offer you to manage and advise your project integrally from the beginning until the end "turnkey", including all the services you need:
Control of building substance and legality before buying
Project
Building License

Project Management
Execution
Contact us
Want to give a new look to your home?
We plan meticulously, provide clear and honest quotes and deliver on time and on budget. If you're looking to build, renovate or extend your home or business, we'd love to talk to you.
We've helped families just like yours add more space and create their ideal lifestyle at home. Please feel free to contact us with any questions you may have.
We have been impressed with our two recent build projects undertaken by REFORMASTER. They have the ability to make practical suggestions as well as solving the inevitable problems that occur during work on an existing property. With a good network of tradesmen and an architect a fast turnaround was achieved with no compromise on quality. We would certainly recommend Reformaster as a reliable building and renovation contractor….
Mark Branagh, Branagh Marine Composites S.L
As the owner of a consulting agency in Santa Ponsa with many foreign clients, who often ask me for a reliable construction company, after the purchase of a residence or business in Mallorca. This has always been a headache for me, the responsibilities to recommend someone. After meeting the company REFORMASTER and have tried their excellent services - first with orders for myself and my family - I don't need to think more. Excellent quality, good prices and prompt delivery ... what more could you want? All my clients appreciate it - Thanks REFORMASTER!
Nacho Moreno, Global Consulting
All the planning and execution of the work of our dental clinic with 4 offices has been made to the last screw REFORMASTER and with real MASTERY. And it was a complicated work! With all the pipes in the ground, it seemed the construction of a nuclear power plant. However, everything went smoothly and it's still working without problems for years. Thanks REFORMASTER! Next time with you too for sure!
Gabor Santha, Dentipalma
I chose the company REFORMASTER for a such important project to me as is my physiotherapy clinic, due the professionalism and transparency that I saw from the beginning, being satisfied with the finish of the work, excellent qualities, expected time of completion, good price and a quick and efficient after sales service.
Kharina Ucar Noguera, Fisioterapeuta / Osteópata
Construction Company in Mallorca
If you're looking for trusted professionals working in construction in Mallorca, look no further – Reformaster is the company for you! We'll be happy to help you with whatever you need, providing a high-quality service and personalised support and guidance just for you. Why not entrust your construction project to a leading company in the sector?
Throughout our many years of experience, we've been lucky to help a huge number of customers. We provided all of them with an outstanding customer experience, going that extra mile to make sure all their needs were met and carrying out any project we were asked to do.
For more than 15 years, we've been offering comprehensive solutions in the field of construction, architecture and renovations in Mallorca. If you want to work with the best team out there on your renovation or interior design in Mallorca project, you can count on Reformaster. Our professionals will do everything they can to help, offering custom-made solutions just for you.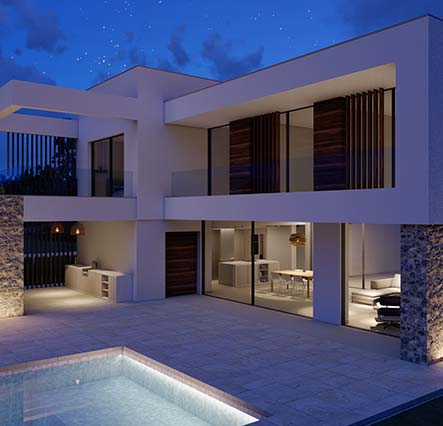 Trusted experts in construction in Mallorca
Our success in the field of construction in Mallorca is due in part to the values we hold dear. At Reformaster, we're committed to transparency with all our customers. We acknowledge the trust placed in us by our customers and take a responsible, ethical approach to all our work.
After a decade in the sector, we opt for the best quality in every aspect of our work, from the materials we use to the professionals we hire. In this way, we make sure that the finished product is exactly what our customers are looking for.
You know what to do. Contact us if you're looking for an excellent team of trusted experts. We'll listen to you, advise you and answer any questions you have. We look forward to hearing from you!